Joslin Center Country-Style French Toast
CoffeeB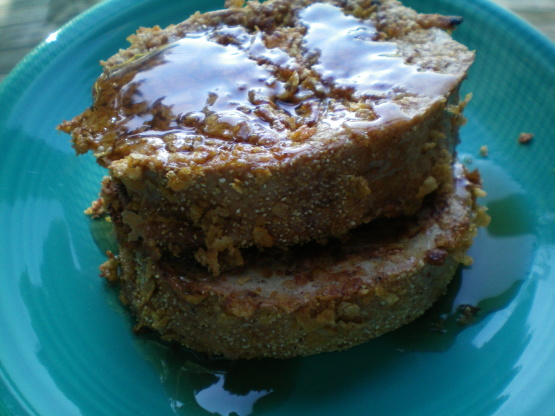 Let them have French Toast! Kids and grown ups love these. In my house it's a sunday morning staple! You will also need butter flavored cooking spray and warmed sugar free syrup or sugar free fruit topping.

thank you SerbGirl for a filling and satisfying breakfast/supper for DH and DS. I followed your recipe to a T. The only thing I didn't use was SF syrup. Full strength for DH and DS. Glad I made this and tagged for Breakfast Anytime Photo Challenge- Sept. 08
NOTE: Make sure to crumble you cereal into fine crumbs.
In a shallow dish, whisk together the egg substitute, milk, ground cinnamon, and ground nutmeg. Place the bread slices in the egg mix and turn to coat both sides. Dip the bread slices in cereal crumbs.
Generously coat a nonstick skillet with cooking spray. Place over medium-high heat. Add the coated bread slices to the pan and cook, turning once, until both sides are nicely browned, about 3-4 minutes per side.
Transfer the cooked bread slices to a warmed platter and repeat the process until all the bread is cooked. Serve hot with syrup or fruit spread.