Josie's Pineapple Zucchini Bread
truebrit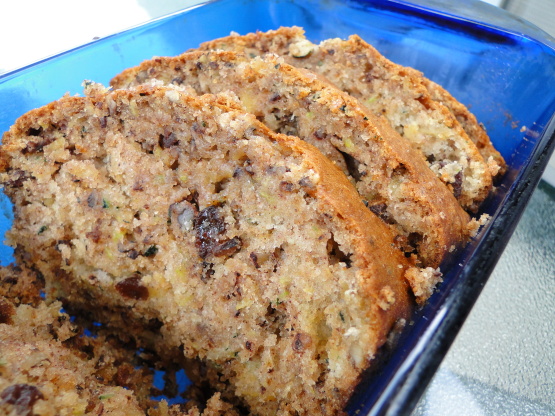 I like this recipe because of the blend of flavours and the moistness of the bread. It was given to me by a co-worker.

WOW!!! Oh my god, this bread is sooo amazing. I thought I was in heaven eating this thing. And this is so healthy too. I substituted the oil with fat free sour cream and used splenda and egg substitute, didn't use the nuts and raisins and ended up being only 895 calories for the whole loaf. This bread comes out picture perfect. WOW.
Preheat oven to 350°F.
Beat the first four ingredients.
Add the next three ingredients and mix well.
Add the remaining ingredients and mix well.
Bake in a 2 greased loaf pans 5x9, for an hour.
Cool for 10 min and turn out on rack.
Note: if using smaller loaf pans bake for 40 minute.