Bobtail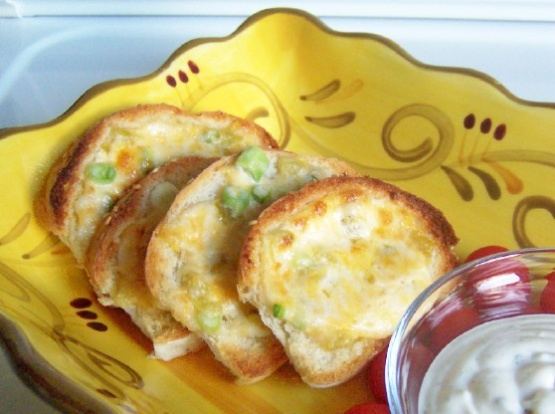 My best friend Linda, served this appetizer last night. I wouldn't leave until she gave over the recipe!

Top Review by fwgal
OMG...I'm not a cook, but spent time researching recipes one could freeze in advance...out of town group visiting and wanted easy pop-in-the-oven appetizers. This recipe was a huge success...have used it on 3 occasions and each time received requests for the recipe....as reviewers suggested used 1/2 cup butter, 1 can of chilies and 1 tablespoon finely chopped jalapenos to add a kick...I'm tellin' ya....people love 'em !!! Oh, I prepared the mix and bread...put in freezer on sheet for 15 minutes to set, then put in bag and froze until needed. Baked for 10 minutes at 350 (this really toasted and crisped the bread) then broiled a minute or two until bubbly....these might be even better frozen as the baking really crisps them up.....
Combine butter, onion, peppers, cheese, mayo, and garlic powder.
Slice bread 1/4 inch thick, spread with butter mixture.
Broil until cheese bubbles.