Jordan Loves Peanut Butter Pie
mliss29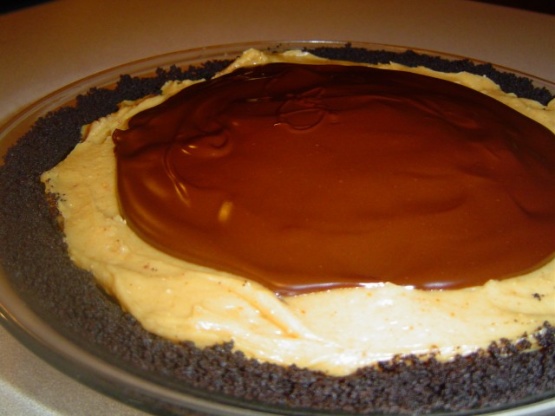 When I was in college, I used to order Peanut Butter Pie from Creme de la Creme in Rochester, NY. Mmmmm....yummy. Years later (when I finally started learning to cook!), I saw this recipe in my mother's Johnson County Library Gets Cooking! (Johnson County, Kansas, that is) and I thought, "this needs the chocolate topping from those chocolate mint brownies a couple pages back." Oh yeah! Jordan is my step-son. He gobbled this pie up! (Well, he had help.) For the crust, mix 1 1/2 cups chocolate cookie crumbs with 4 Tablespoons melted butter and press into a 9-inch pie plate.

Oh my goodness, OH MY GOODNESS! This pie is delicious! And sooooo easy to make! I used my electric mixer instead of folding in the whipped cream because the peanut butter mix was a little stiff and it still turned out fabulous! Great recipe - will store this one for the future!
Beat together cream cheese, peanut butter, sugar, and vanilla until smooth.
Fold in Cool Whip.
Spoon into crust.
Heat butter and chocolate chips over low heat, stirring constantly.
Remove from heat and cool to room temperature.
Pour over pie, leaving about an inch ring of peanut butter filling showing.
If you refridgerate the pie, let it warm up some before cutting through the chocolate topping.