Ambervim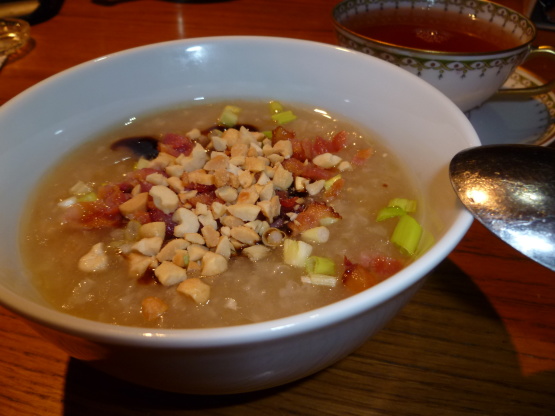 I found this in the newspaper. variations: For Jook with vegetables, omit bacon in second step. Soak 4 or 5 dried Shiitake mashrooms in hot water until softened, remove stems and chop. Add them to mix, with ginger and two carrots, peeled and finely diced, and a pinch od salt.When almost jook is done, stir in 1 cup fresh or frozen peas, and cook about 10 minutes.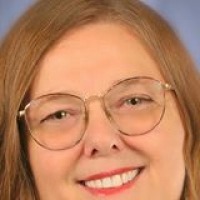 At first this was not clear there were 8 cups liquid. It takes 8-10 cups water/brother to 1 cups of rice. I cooked it overnight in a crock pot. A little stuck to the sides by morning. When I got back from SE Asia I craved this all the time. There would be an array of veggies, sauces and protiens to add to it. I added oyster sauce to the green onions, and bacon on top.
Wash rice put in a stock pot with chicken stock or wather.
Bring to the boil over high heat and add 4 cups water.
Bring back to the boil, then turn heat to low.
Partly cover pot, simmer for about 1 1/2 hours, stirring occasionally and adding water as neccessary (Probably 2 cups more).
Add ginger and bacon, if using, and simmer for about an hour.
Jook should have a porridge-like cosistency.
If it becames very thick, add water.
When done, it will be soupy and creamy.
Remove the bacon slab, and serve jook seasoned with salt or soy sauce, then garnished with minced bacon, spring onions and peanuts.
Drizzle with sesame oil, if desired.