Jolly Cheddar Cheese Spread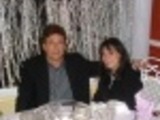 This is great to prepare around the holidays and takes seconds to prepare.
Directions
Chop Cheddar finely in food processor. Add butter and cognac and process until smooth. Stir in by hand pecans and raisins. Spread in mini crock (or other decorative dish) and refrigerate at least 1 hour before serving. Serve with breadsticks, crackers, French bread, apple or pears, or raw vegetables.
Most Helpful
I omitted the raisins and used glazed pecans (chopped up) that I had on hand. The sweetness of the glazed pecans is a nice contrast to the sharp cheddar. I served it as an option to butter on french bread with a light summertime shrimp salad dinner, and also added a few apple slices on the side. This spread would of course make a great hors d' oeuvre, appetizer or even a dessert for those (like me) who enjoy a little cheese with coffee at the end of a nice meal- in which case perhaps adding some chopped dried apricots would work well.
Hmmmm, guess I just don't care for raisins in a cheese spread! I'm glad I tried it though. Thanks for posting.

This was really good! It works well as a mini appetizer, with French bread and a thing slice of apple on top. I sometimes like to have cheese on its own, without anything else, so I was able to appreciate all the nuances too.