Stacky5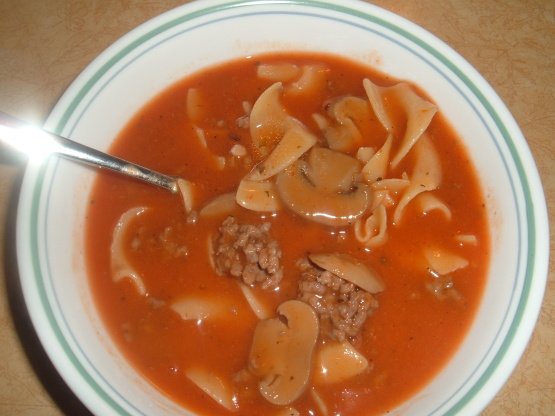 This was a staple in our family growing up. Very inexpensive and easy, and kid-friendly. Odd thing about it was that our friends from school would ask to stay for supper at our house whenever Mom made this, and she concocted it simply because we didn't have much in the way of groceries/money back then!!

This was very good, easy, and filling. The instructions were very clear and easy to follow. I will definitely make this again! Thanks for sharing this family recipe!
Brown the garlic and ground chuck and break into chunks while cooking. Drain thoroughly.
Pour soups and water into large stock pot. Stir until smooth and no lumps, while heating on medium heat on the stove.
Add browned ground beef, mushrooms, oregano, basil, salt & pepper. Cook until gently bubbling.
Add noodles and simmer on low for 10 minutes (until noodles are al dente', or tender but not mushy.) Add pat of butter and stir in as it melts.
Serve with warm garlic & cheese bread.