Jolean's Killer Spaghetti Sauce
Junebug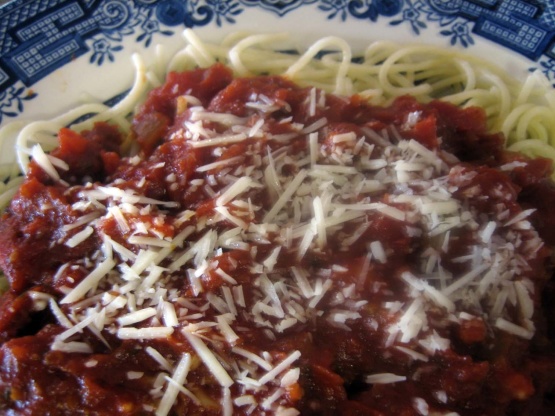 This was my Mom's recipe for spaghetti that became one of our favorite "special Sunday dinners." I can't describe how wonderful the whole house smelled whenever she made this, and all of us kids would fill up on it so much that we couldn't MOVE for the rest of the day! NOTE: She always INSISTED on serving only Vermicelli pasta with this -- No regular spaghetti or thin spaghetti would do...

I made this sauce last night for our spaghetti lunch for meals on wheels. I personally have my favorite other sauce but this was pretty darn good. My nephew that swears up and down that he dont like spaghetti (hes 4) ate a large helping while we were putting the meals together. He really liked it. I choose this sauce due to the fact we were feeding the elderly and my homemade sauce is rather spicey. This sure was a great choice. I will be making this again and who knows I just might make it just for us. Thank you for sharing your great recipe. BTW, everyone that recieved a meal really enjoyed this sauce.
In a large stockpot or dutch oven, saute' onion, celery, green pepper and garlic in oil until PARTIALLY tender. Push aside in the pot.
Add ground meats and brown. Chop meat into rather large chunks -- not too small. Mix meat and saute'd vegetables well.
Add tomato paste, tomato sauce and stewed tomatoes and stir, mixing well.
Add sliced mushrooms and whole mushrooms with liquid. Stir.
Add all the spices including the grated Parmesan cheese. Mix thoroughly.
Bring to a boil. Stir and simmer for AT LEAST 1 1/2 hours, stirring frequently.
Serve sauce OVER cooked, drained and buttered VERMICELLI pasta. Sprinkle additional grated Parmesan cheese on top, if desired.