Jolean's Crock Pot Spanish Chicken
Stacky5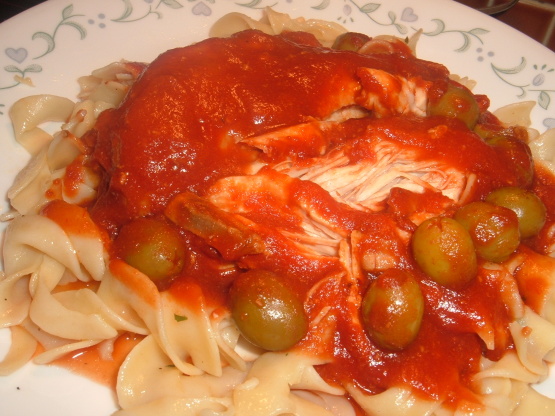 This is a recipe that my Mom always made for us in the 70's, which I found in her original 1970 Crock Pot Recipe Booklet (with the page "dog-eared" and check-marked), and over the years has been tweaked just a bit for our own tastes...Super easy, and since I've been married (and divorced) twice now, I can honestly tell you that it is a "Man-Pleaser" as well as a kid-friendly recipe. I make this at least a couple of times every month, and they always ask me when I'm going to make it again! Really tasty, and easy too, since you dump everything in the crock pot in the morning and when you all come home from work or school, the house smells amazing!!!
Top Review by LJ M.
This has been a favorite recipe of mine for decades. I still have my (falling apart) original Rival cook booklet from my very first Crockpot. I serve it over yellow rice and just love it!
Wash chicken breasts, drain, and season on both sides with salt, pepper, paprika and garlic powder.
Place seasoned chicken breasts in crock pot.
Mix tomato paste and beer together and pour evenly over chicken breasts.
Add olives with liquid.
Cover and cook on low for 7-9 hours.
Serve each chicken breast over a small mound of prepared noodles, and dish sauce (with olives) over each serving. YUM!
NOTE: You can also substitute 3/4 cup (6 oz.) chicken stock instead of beer. Makes it a bit more savory and seems to be more tasty for kids that way -- .