Jolean's Company Baked Egg Frittata
Junebug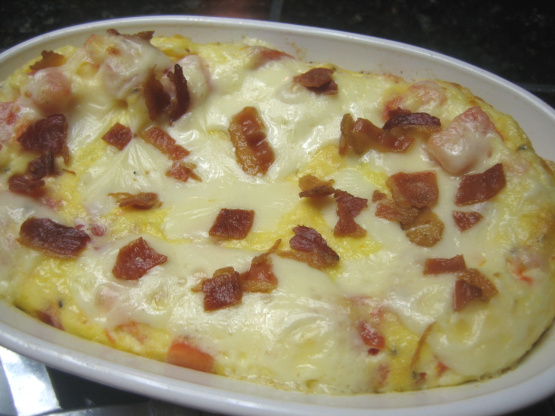 My mom rarely cooked us breakfast, but when we had company she went "all out". This is a very simple recipe. There are probably lots of similar ones out there, but this one is dear to my heart because it was TRULY a "special occasion" whenever my mom made this. I still love it to this day, although I've embellished it plenty from time to time--YUM! Note for Zaar World Tour II: Frittatas are Italian in origin.

Made for Easter Egg Hunt Tag. This was a quick and easy dinner. The only thing that I would do different would be to not add the salt as ours was plenty salty. Other than that this was good and I would make it again. Will be trying it next time with sausage instead of bacon. Thanks for posting this Stacky!
Fry bacon until crisp, then remove strips and drain. Crumble bacon.
Whisk all other ingredients together except cheese, and pour into an 8x8-inch greased glass pan.
Sprinkle bacon and cheese evenly over top.
Bake in a preheated 400°F oven for 20 minutes, watching so that it does not get too brown.
Garnish with chopped, fresh parsley.
I serve it with Pillsbury crescent rolls, butter and honey.