John's Chicken Enchiladas
CandyTX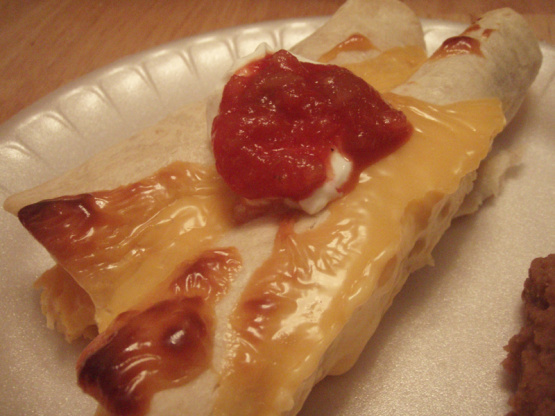 My brother in law made this for me when I was visiting and I absolutely had to have the recipe... yummy!

This had pretty good flavor. However with no sauce on the bottom of the dish the bottom of the tortillas were very hard. I will put salsa on the bottom next time I make this.
Preheat oven to 350.
Cook chicken and onion in oil over medium heat in skillet, add cream cheese.
In a separate bowl, melt velveeta in microwave and stir in milk.
Put chicken mixture in each tortilla and roll up, placing seam-side down in 9X13 pan.
Pour velveeta mixture over wraps.
Garnish with salsa and olives.
Bake at 350 for 20-30 minutes until cheese is bubbly.
Serves well with sour cream.