Bergy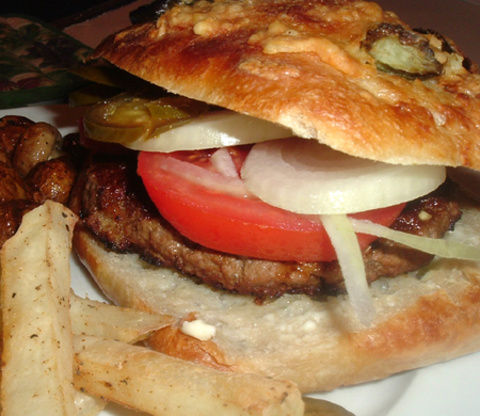 A BBQ hamburger that has evolved over time and practice, with many ideas received along the years. Make sure you start with your meat at or near room temperature. Cooking is everything, follow the BBQ advice closely!

Very Very Good. When i made these My DH and brother were remodeling my moms kitchen, I go out to the garage and grab a trim hammer and my mom asks me what are you doing i help up the hammer and said Cooking. It was to smash the croutons :) I followed the recipe up to the maple syrup and blue cheese ( i dont like blue cheese) I cooked them on the smoker, put the burgers to the hot side close to the fire box to sear them, then moved them over to the cooler side to finish. There were no leftovers. Every one loved them. Tina
Assemble ingredients in a mixing bowl and mix using a fork, until this is very well combined.
Form into patties approximately 3.5" diameter, 3/4" thick, squaring the edges so that they are not overcooked.
Set the patties in the fridge for one hour.
Heat BBQ to high , then reduce heat on one side to minimum, the other to half capacity.
Dump soaked mesquite chips on hot side of grill, allow them to come to a flame.
Place burgers on the grill allowing a sear mark to develop, then rotate 90 degrees for a "thatched" appearance.
Close grill hood, and allow burgers to slow cook --
Flip the burgers and close the hood again.
Use a meat thermomemter to prove "doneness" as rge smoke and the sugars in the ingredients will give colouring that will confuse you otherwise-aim for about 175 degrees --
Served with sliced refridgerator dill pickles, garden fresh tomato slices, sliced white onion, on a toasted sourdough bun.