Mandy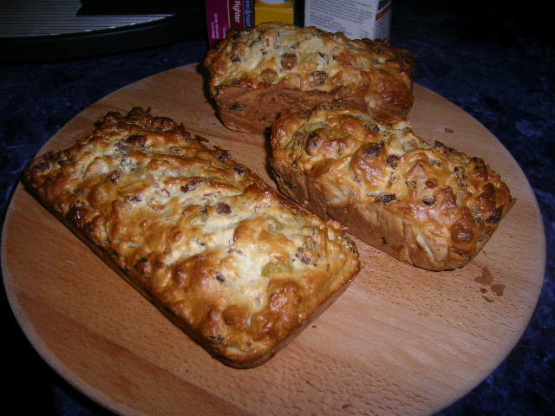 My brother makes a killer banana bread, where the batter is basically a way to cement together all kinds of nutty, fruity goodness. There is no oil at all in this recipe. The result is almost fruitcakeish, except that it's actually edible! :-) Like fruitcake, the loaves are pretty stable and improve with age. You can add pretty much any kind/combination of dried fruit and nuts - as long as it adds up to the same total weight of the ingredients listed below.

Top Review by Mandy
I don't usually like fruit cake but this sounded so yummy I just had to give it a try. I wasn't disappointed either this is great. I halved the recipe & got one large loaf and 2 small loaves out of it. I used sultanas, pineapple & apricot for the fruit & almonds for the nuts as that's what I had on hand. The banana gives the cake a nice flavour & because of all the good things in it I needn't feel too guilty about eating it. This one I will make again. Thanks for posting!
Grease and line three 9"X5" loaf tins.
Pre mix the flour, salt, and baking soda.
Mash the bananas in the mixer.
Mix in the eggs, sugar.
Add the dried ingredients.
Add the dried fruit nuts etc. - this is where all that extra horsepower from a good mixer comes in handy!
Spoon out the mix into the three loaf pans - a scale is a handy way to get them approximately equal.
Bake about 1 hour at 350°F When done, a test stick will come out clean.