Johnny Jalapeno's Thieving Bandit Chili
teresas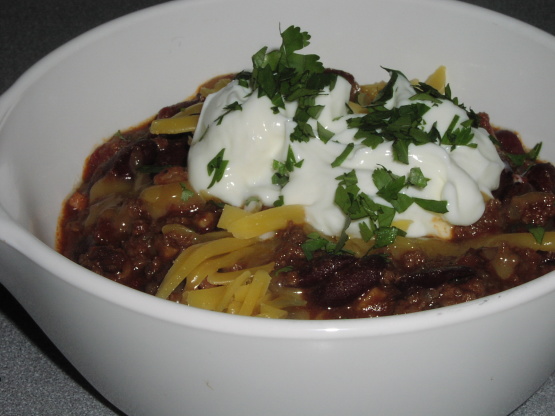 Many years ago, Johnny had stolen this recipe from 2Bleu. Well, the law finally caught him but to save Johnny from a hangin for stealin, 2Bleu told the judge that while it was indeed their recipe, they had given it to Johnny as a gift and planned on putting his name on the cans. 2Bleu just didn't have the heart to see Johnny hangin from a noose (especially since he was secretly their cousin, twice removed). ;) Adjust the jalapeno, cayenne, and chili powder to your desired heat level. For an all-out exlusive dish, try spooning this chili over Johnny Jalapeno's 'jumpin Wagon Wheels!' Macaroni and Cheese!

What a yummy chili recipe. I made as directed except used a little less of the chipotle peppers in adobo...I know how hot those babies are and was nervous about doing as much as called for lol. This had great flavor and really hit the spot on a chilly fall night :) Thanks so much for posting!
Over medium heat, brown bacon in a large dutch oven until crisp. Add beef, onions, and garlic. Cook, stirring occasionally, until beef is cooked through.
Add remaining ingredients and stir. Reduce heat to low and cook uncovered for 2-3 hrs, stirring occasionally, until thickened to your liking.
Alternatively, you can let simmer for 1 hr, then let cool, refrigerate overnight and finish cooking the next day.