Johnny Jalapeno's Sweet Heat Appetizers (Or Wraps)
2Bleu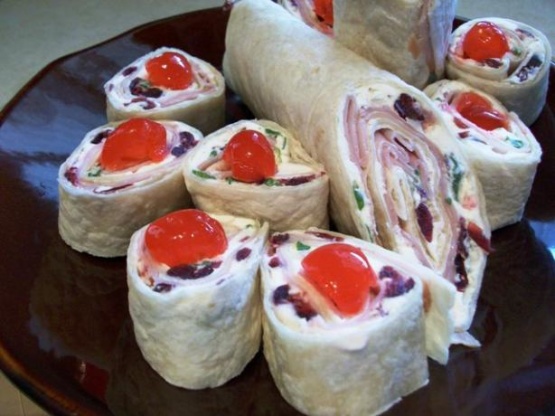 Will admit that I cut way back on the HEAT in these appetizers, but couldn't help it! First off I made just half a recipe & then used just half of a jalapeno, but other than that . . . AND 3 of us devoured 'em in no time! Wonderfully tasty, & I intend to have them on my finger food counter the next time I host a larger group! Thanks for sharing the recipe! [Tagged & made in Please Review My Recipe]
To tortillas, spread cream cheese all the way around to edges. Sprinkle with cranberries, and chopped jalapenos. (If making as wraps, place 8 of the 1/2 cherries in now). Lay ham slices to cover top.
Roll up tightly, wrap in plastic and refrigerate at least one hour. This is important so they hold together when cut.
Appetizers: Trim off the very ends of each log, then slice each log into 8 slices and lay flat. Place a half cherry onto the center of each pinwheel. Arrange decoratively onto a serving platter.
As Wraps: You can also serve as wraps as they make a great on-the-go lunch (wrapped and ready for the lunchbox).