Johnny Jalapeno's Fiesta Wraps
2Bleu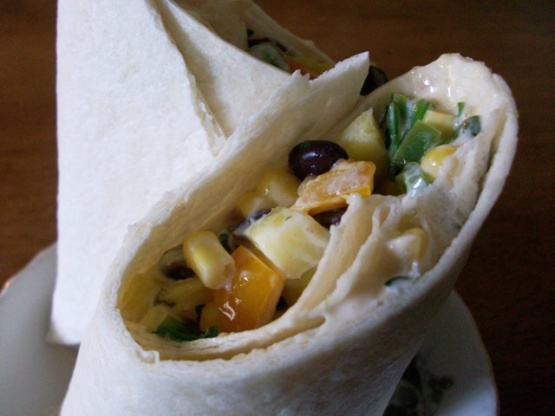 Well, JJ's at it again! Seems he hooked up with the McDaniel gang again and they couldn't wait for some of his tasty dishes. One of the McDaniel's had hooked up with a sweet little girl from Mexico named Carlita. Carlita just loved fiesta colors! On her clothing, In her home, and even in her food. Johnny came up with this yummy recipe just for her. Carlita was so happy that she did a Mexican hat dance for him!

Yum! Johnny's got a real winner here, on all counts. I cut this down to just one serving, and that was the perfect amount for a lunch wrap. The colors were so pretty, with the mango, peppers and beans, that it was almost a shame to roll it up to eat it. I left out the avocado, and would have used chicken if I had any on hand, but instead sliced up a bit of leftover steak for some extra protein. The sauce is wonderful; the perfect combination of heat from the hot sauce and sweet from the preserves. I know I'll be making this one again!
Sauce

1⁄4 cup apricot preserves
1⁄4 cup sour cream
1⁄4 cup mayonnaise

2

teaspoons hot sauce (Texas Pete or your favorite to taste)
1⁄4 teaspoon cumin

Fiesta Mix

1

tablespoon olive oil

1

red bell pepper, chopped

1

(14 ounce) can whole kernel corn (canned or frozen thawed)

1

(15 ounce) can black beans, drained and rinsed

1

large jalapeno, chopped (or to taste)

2

green onions, chopped (both green and white parts)

2

mangoes, peeled and diced

1

avocado, peeled and diced (optional)
1⁄2 cup fresh cilantro, chopped

1

lime, juice of

Other

8

flour tortillas, warmed

1

cup chicken breast, cooked and shredded (optional)
SAUCE: Combine all ingredients in small bowl. Cover and refrigerate. (best if chilled for at least an hour).
VEGGIE MIX: Heat oil in a large nonstick pan over medium heat. Add the bell pepper and saute' for about 5 minutes.
Add the corn, beans, jalapenos, and green onions, stirring well. Reduce heat to low & simmer about 5 minutes to heat through.
Remove from heat and add mango, avocado (if using), cilantro, and lime juice. Gently toss or stir to combine.
ASSEMBLY: To each flour tortilla, spread some sauce, (and the chicken if using), then the veggie mixture. Wrap up burrito style and enjoy.