Johnny Jalapeno's Cowboy Candy
2Bleu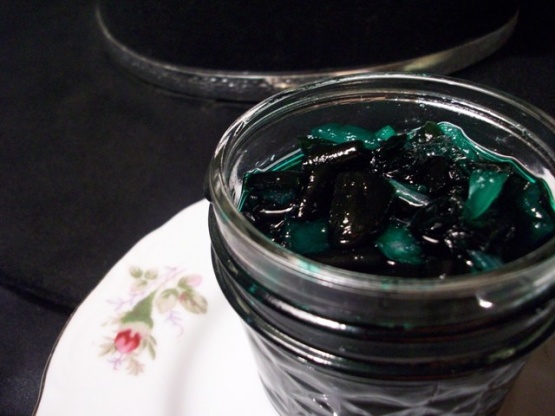 Fresh jalapenos is needed for this recipe which easily doubles/triples to do in batches for canning. This is JJ's chutney that will give your mouth a funky little roller coaster ride of hot & sweet. Serve it with cream cheese on crackers, or as chutney on Tortilla chips. Great for gift baskets! Remove the seeds from the jalepenos for 'Cowgirl Candy'. I have sometimes made this with an assortment of hot peppers from our garden.

I was a little confused by the description/reviews. I expected the finished product to be a bit thicker, based on the photos. I did not use the gelatin, as I wasn't looking for a pepper jelly. That being said, the taste was very good. I used "full cowboy" leaving the seeds. I found it to be a bit salty, and will not add salt next time. I cooked an additional 25 minutes at simmer to try and reduce the liquid, but even after cooling for 3 hours, I still had lots of runny liquid left. For me this is a work in progress.....I'll keep trying to get the right consistency. It is definitely not too hot. So I encourage others to keep the seeds....it is wonderful that way!
Place all ingredients into a small saucepan and cook over medium heat until boiling.
Reduce temperature to low and simmer 20-25 minutes, stirring occasionally until liquid is reduced by about half.
Let cool, stirring occasionally (it will thicken more as it cools) You can serve it warm or transfer to a jar and store in refrigerator. Serve with crackers spread with cream cheese and the candy.
TO JAR FOR LONG STORAGE OR GIFTS: Carefully pour hot candy/jelly into sterilized 4 or 8 oz jars, leaving a 1/4" headspace. Wipe jar rims, place warm lids and rings atop and tighten hand tight. Process in a boiling water canner for 10 minutes. Remove jars and cool on a wire rack.