Johnny Jalapeno's Chicken Enchiladas With Cilantro
2Bleu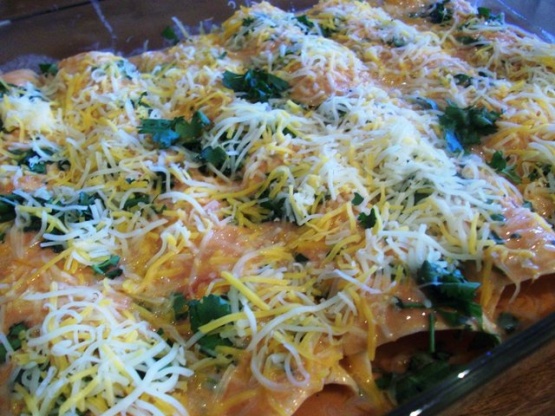 Sittin around the campfire one night, RickyMac of the McDaniel gang told us a story of how one day Johnny went down to the swimmin hole and was having fun all day swingin from the rope tree into the water, cowboy boots and all!. Well, that last dip he come up from the water with the strangest look on his face. He yelled "There's a snake in my boot!" He jumped outta them boots and took off runnin like a chicken. He run so fast, he run right through a field of cilantro. When he came into a clearing, feeling safe at last, he stopped, looked down at his feet, and said "Look!, I got Cilan-toes! Hence: This Chicken with Cilan-toes recipe was born!

This was very enjoyable and nice that it came together quickly. I liked the zing from the extra jalapeno, which added to the already-spicy sauce I used made us reach for the beers! It was a little too creamy for me - I might reduce the cream cheese/sour cream just a bit next time, but overall very satisfying.
Preheat oven to 350°F Spray a 9x13 baking dish with nonstick cooking spray. Set aside.
FILLING: Heat butter and oil in a saucepan over medium heat. Add chicken, garlic, jalapenos, and green onion. Sprinkle with cumin, and cook, stirring occasionally, for 3-4 minutes until heated thru.
Add the cream cheese, stirring to incorporate until melted. Stir in sour cream, season with salt and pepper. Remove from heat.
ENCHILADAS: To each tortilla, place some of the chicken mixture, then sprinkle with some Mexican cheese blend (about 2 Tbsp inside each enchilada). Roll up and place seam side down into the baking dish. Repeat with remaining tortillas.
To the skillet the chicken mixture was in (no need to wash the pan first), combine the enchilada sauce, picante sauce, and heavy cream. Bring to a simmer then pour over top of the enchiladas. Sprinkle with cilantro followed with remaining shredded cheese. Bake for 40 minutes until heated thru.
Let rest 5-10 minutes to set. Serve with a dollop of additional sour cream if desired.