Johnny Jalapeno's Cast-Iron Blueberry Pie
loof751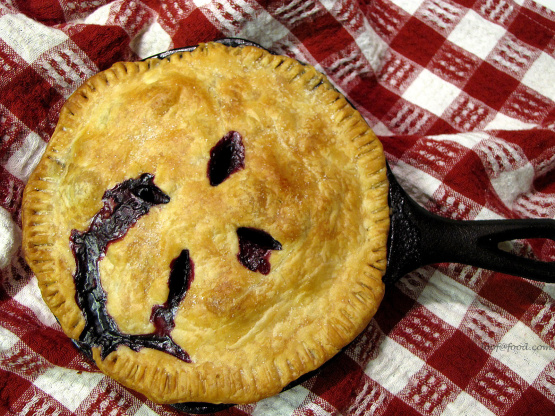 Cooking in a cast iron skillet is the true cowboy way and no one knows about cowboy cooking more than the famous outlaw, 'Johnny Jalapeno'! Legend tells that Johnny went all out with this pie. Eyeing a delicious looking patch of wild blueberries, he crept up to it injun style (real low and quiet) and got the best berries he could gather up. But soon the chase was on as Johnny Jalapeno heard the crows coming! Quick as lightning, and running like the wind, poor Johnny was being chased and pecked all the way to back to the campsite. The McDaniel gang had a hootin-hollerin' time shootin them birds away as Johnny made this dessert for the clan. "We gotta look after the best cook in the west boys!" Shouted Ricky Mac, the gangs leader. May we also suggest Johnny Jalapeno's Cast-Iron Apple Pancake

Delicious pie! So fun and rustic made in the cast-iron skillet. I made 1/2 (about) of the recipe in a mini skillet. I put a piece of foil under the skillet to keep the bubbling juice from making a mess in my oven. Great dessert - thanks for sharing the recipe!
Preheat oven to 400 degrees F. Place one of the pie crusts in bottom of 10" cast-iron skillet, spreading it gently to cover the bottom and up the sides of the pan.
In a large bowl or pan, blend sugar, flour, lemon peel, mace, and salt together in a bowl. Add blueberries and blend well to incorporate, mashing some of the blueberries. Add the blueberry mixture into the bottom crust, spreading evenly. Dot with butter.
Place top crust over top of blueberries. Carefully lift away a portion of the bottom crust away from the pan and tuck top crust between pan and bottom crust. Repeat until you've gone all way around the pan to seal the crust. Cut 3-6 small slits to vent (We cut as many slices as we want from the pie, sort of like pre-slicing it that way). Bake approximately 30 minutes.
Remove pie from oven and sprinkle the top with sugar and if neccesary, line the outside edge of the pie crust with aluminum foil to avoid burning the crust.
Place back into oven and bake for an additional 15 minutes or until berry juice is bubbling from the slits and crust is golden brown. Remove from oven and let pie cool completely before serving.