Johnny Jalapeno's 'cancun Vacation' Citrus Shrimp Medly
2Bleu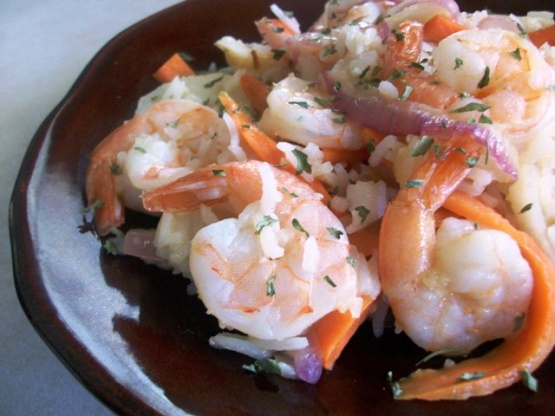 This is a fantastic one dish meal recipe that is super fast and easy to make. And here's how this recipe came about: JJ and the McDaniel gang went on a long needed vacation. They were enjoying the blue waters and sandy beaches of cancun, but that Johnny still had a hankerin for cookin! (it's in his blood, he can't help it). Well, with all those delicious tropical fruits and flavors around, he told the gang that "well, a man's gotta do what a man's gotta do". So the gang helped their buddy and stormed inta the hotel kitchen wavin their pistolas high up in the air shoutin' 'Stand back!" as Johnny started grabbin for the pans. Well that frightened little manager of the hotel had him a taste,.. It was so good, that when the sheriff arrived, the manager told him that is was just a case of 'good old island fever!" The sheriff was initially a bit upset by the false alarm , but he got over it just fine after a taste of this medly. Ah, love vacations, they'z always an adventure! said Johnny.

I made this for my dad tonight and he said it was awesome. The only thing he wanted me to add was pineapple chunks next time. It has a nice fresh citrus taste with a perfect spiciness! We loved the shrimp and jalapeno mix! I plan on adding a little lemon pepper seasoning, pineapple chunks and thickening the sauce a little. I really appreciate you posting it!
CARROT RIBBONS: Peel the carrot and then continue peeling long strips, rotating the carrot so the strips don't get too wide.
Heat oil and butter in a large skillet on medium heat. Add the garlic, jalapeno, onion, and ginger. Cook 1 minute to soften onions. Add carrots, and water chestnuts and continue cooking until carrots are just tender, about 2-3 minutes. Spoon the vegetables to a dish and cover to keep warm.
In the same skillet increase the heat to med-high. Add the juices and honey. When the juice has simmered down some, add the shrimp and cook about 1 minute per side when shrimp is just about fully cooked.
Add the vegetables back in along with the cooked rice and stir until sauce coats everything and thickens. Plate up, garnish with the dried parsley, and serve.