John Ed's Ground Beef Casserole
Pagan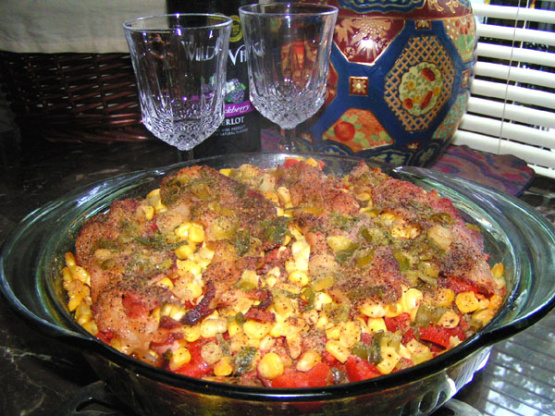 NOTE: This recipe has been updated! This was Elswet's Papaw's "Saturday Afternoon" recipe. He prepared it himself, often. He said it was an old Navy recipe he remembered from WWII, and it was one of his favorite dishes. It has a slight pizza taste, which makes it a favorite among kids, is very easy to assemble, and gives you hands free cooking. NOTE: This recipe has been adjusted, slightly. ;)

Love this! All 3 kiddos and hubby go back for seconds and thirds (and that says a lot when it comes to hubby!!! lol) Have already made this quite a few times and will continue to do so! Thanks a ton for this easy, family pleasin' recipe!! =o)
1

cup brown rice, washed but uncooked

32

ounces yellow whole kernel corn, canned, drained
1⁄2 teaspoon italian seasoning

10

ounces canned tomatoes, diced
1⁄2 cup water
1⁄2 teaspoon salt
1⁄2 teaspoon pepper
1⁄2 cup bell pepper, diced
1⁄2 cup green onion, thinly sliced

1

lb ground beef, raw crumbled
1⁄2 teaspoon italian seasoning
1⁄2 teaspoon garlic powder
1⁄2 cup green onion, thinly sliced
1⁄4 cup bell pepper, diced

10

ounces tomatoes, canned diced
1⁄2 cup water
1⁄2 teaspoon salt
1⁄2 teaspoon pepper

6

slices bacon, to cover top
1⁄2 cup monterey jack cheese, finely shredded
1⁄8 cup green onion, thinly sliced
1⁄2 teaspoon italian seasoning
Preheat oven to 350°.
Place ingredients as listed in large, greased baking dish, layer by layer just as it's listed. NOTE: The tomatoes can be purchased in a 20 ounce can, diced in its own juice. One half can per tomato layer will suffice well.
Bake at 350° covered for 2 hours.
You know it's done when the rice on the bottom is fully cooked.