CarolAT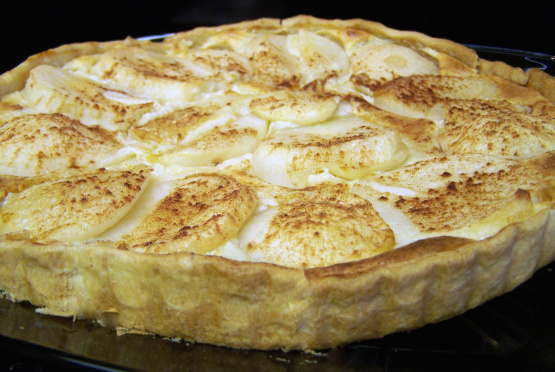 This is a delicious as well as impressive dessert to make for your guests. It always gets lots of oohs and ahhs when you serve it because of the pretty presentation. Plus it tastes great! Recipe given to me by my friend Nancy and is from her stepmother Joan.

I've made this at least four times and it's always amazing. One tip: don't soften the cream cheese or the filling will be too runny. I use a different recipe for the crust to make it gluten free and have used pears each time. I have one in the oven right now though that I'm doing with cherries and I can't wait to taste it!!
Crust

1⁄2 cup butter
1⁄3 cup sugar
1⁄4 teaspoon vanilla
3⁄4 cup flour
2⁄3 cup finely chopped pecans

Filling

8

ounces cream cheese
3⁄4 cup sugar

1

egg
1⁄2 teaspoon vanilla

1

(29 ounce) can pear halves in natural juice, drained

2 -4

tablespoons cinnamon sugar
whipped cream (to garnish) (optional)
Beat the first 4 ingredients together until well blended and then add the pecans to the mixture and mix well.
Press into an 11 inch round tart pan (use the one with a removable bottom for best presentation).
Beat together the cream cheese, sugar, eggs and vanilla for the filling and pour over the crust.
Arrange the drained pear halves in a pretty design on top and sprinkle with cinnamon sugar.
Bake at 450 degrees for 10 minutes and then turn the heat down to 400 degrees and bake for an additional 25 minutes.
Remove side from tart pan to serve.
Serve warm and if desired garnish with whipped cream.