Joanne's Spicy Shrimp Salsa
Rita1652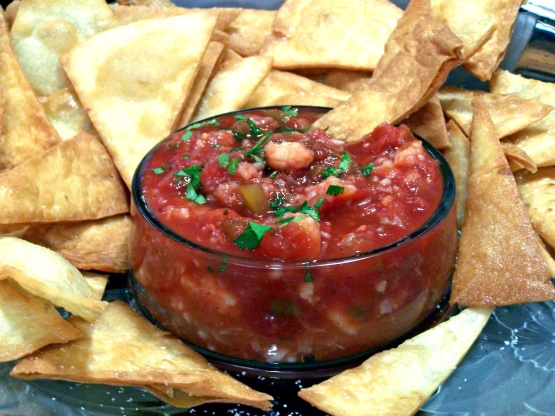 This is my picky husband's favorite salsa. Sometimes he'll just eat the salsa by itself as a salad! This recipe comes from one of my favorite cookbooks, "The Junior League Celebration Cookbook." Cooking time is refrigeration time.

Top Review by Melly2
WOW! I love this stuff. I only used 1 jalapeno and had no garlic or cumin available. I also increased the cilantro cause I love it. I used medium shrimp and it was fantastic. Thanks for posting. Oh...also yummy to add some cocktail sauce for a fun twist.
Drop the fresh tomatoes into a small pan of boiling water for about 2 minutes or until the skins blister.
Remove from the water, cool, and peel.
Coarsely chop the fresh or canned tomatoes and place in a large bowl.
Stir in the remaining ingredients.
Cover and refrigerate at least 4 hours.
Serve with baked tortilla chips or as a side dish.
For a thicker salsa, combine all the ingredients except shrimp in a food processor; pulse 3 times or until desired consistency.
Stir in shrimp.