Joanna Lund's Classic Chicken a La King
loof751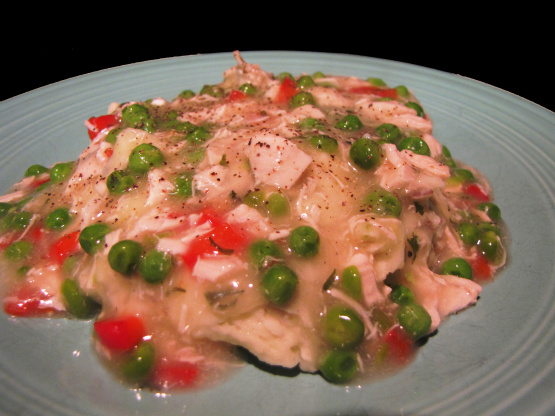 This is from JoAnna Lund's cookbook "Cooking Healthy Across America". It's so easy to prepare! I used boiled chicken that I boiled and shredded the day before so this made for a quick and easy weeknight meal. We served it over Texas Toast but I'm sure it'd be just as good over noodles, rice or mashed potatoes. Note: the recipe calls for 1 1/2 c of peas, but the family doesn't like peas that much so I just used about 3/4 cup.

Quick, easy, tasty! I boiled a chicken breast to use for this, then made my own gravy from the broth. I used a little less sour cream than called for as it's all I had, and I really liked the addition. Served over mashed potatoes and really enjoyed - thanks for sharing the recipe!
In a large skillet, combine chicken gravy, peas, and undrained pimiento.
Stir in parsley flakes, sage and black pepper.
Add chicken.
Mix well to combine.
Cook over medium heat for 5 minutes, stirring occasionally.
Stir in sour cream.
Lower heat and simmer for 3-4 minutes or until heated through, stirring often.
Serve and enjoy!