Jo Mama's World Famous Lasagna
SharleneW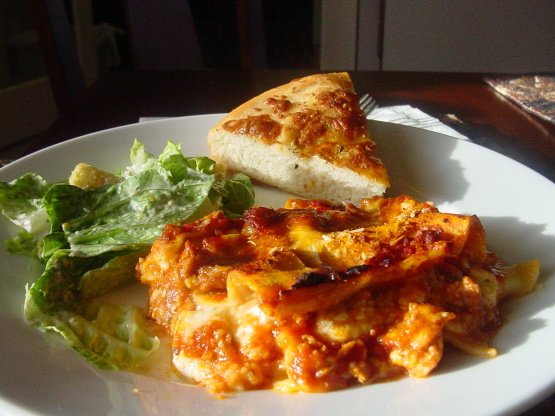 Wondering what to do with leftover sauce when you make Jo Mama's World Famous Spaghetti? Here is the perfect answer. Don't skimp on the sauce--this is best when you use 6-7 cups of sauce. Prep time assumes you have already made sauce. I like to make this up in 2 smaller casseroles so I can serve my family one and freeze the 2nd one for later.

The lasagna was very good, the only thing that I changed was I used ricotta cheese instead of cottage cheese. The sauce really does make this an excellent lasagna. By the way with the sauce I used 1 lb. hot sausage and 1 lb. sweet sausage an no red pepper, Delicious.
Cook lasagna noodles according to package directions, drain and cut to fit pan.
In small bowl, mix cottage cheese, oregano, salt and 1/4 cup of parmesan cheese.
Using two deep 9 x 7-inch glass baking pans or one deep 9 x 13-inch casserole dish, make a layer of noodles followed with 1/2 cottage cheese mixture, 1/2 mozzarella cheese and 1/3 sauce.
Follow with another noodle layer, remaining cottage cheese, mozzarella cheese and 1/3 sauce.
Top this with a final noodle layer covered with remaining sauce.
Sprinkle remaining 1/4 cup parmesan cheese over top.
Bake in 350°F oven for 30-40 minutes until casserole is bubbling and slightly browned on top.
Let cool for 15 minutes before serving so lasagna can firm up for easier slicing and serving.