Jingle Bell Cranberries on Boston Lettuce
WiGal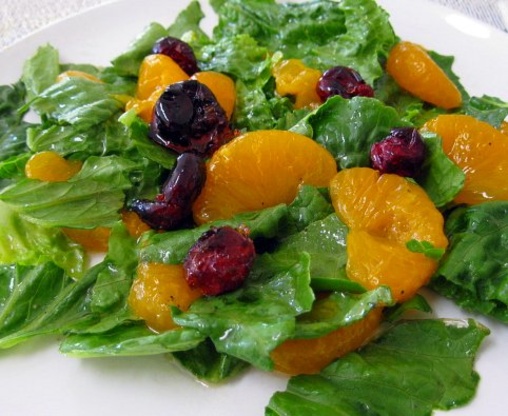 A wonderful festive salad recipe from Penzey's spice catalog. The cranberries and dressing can be done up to 2 days in advance so assembly is a snap.

Top Review by WiGal
A beautiful salad! We liked the salad dressing and mandarin orange/ lettuce combination very much. For the cranberries I lined the cooking sheet with foil making sure I had a ridge around the edge but the foil was difficult to remove from the caramelized cranberries. The cranberries were getting very dark after 45 minutes so I removed them from the oven. Subbed red wine vinegar for the cider vinegar and omitted the poppy seeds. Congratulations appleydapply for becoming a FROG in Top Favorites of 2008 Game!
Preheat oven to 350. Spread cranberries evenly in a shallow baking dish and sprinkle sugar evenly over them. Cover tightly with foil. Bake 1 hour, stirring every 15 minutes.
Cool to room temperature. Refrigerate until needed (can be done ahead, up to 2 days).
In a small bowl, whisk together honey, vinegar, mustard powder, poppy seeds, salt, pepper, and orange juice. Gradually whisk in oil until blended. Use immediately, or refrigerate up to 2 days.
Toss lettuce & oranges with dressing so that they are lightly coated. Arrange on chilled salad plates. Garnish generously with the candied cranberries.