rpgaymer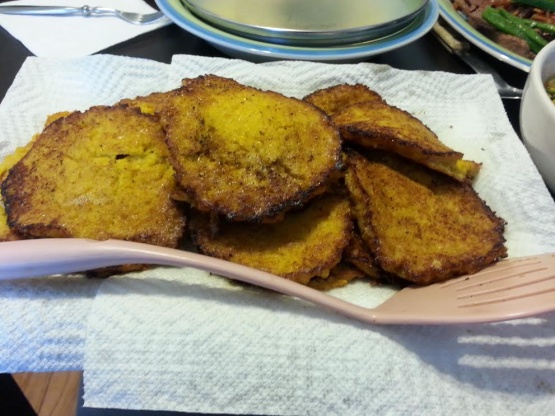 I was looking for a recipe for cachapas one day so my husband could have some. He lived in Venezuela for a couple years and this was one of his favorite foods. He said they served these with a thick slice of either jack or mozzarella cheese. Anyway, I found this online and it's from Jimmy's Bronx Cafe.

Pismo: That Jimmy got it right almost to the tee! Pepper is a foreign ingredient in the recipe. It might be some kind of added taste by Jimmy. I am Venezuelan (Caracas native) and cachapas are one of my ultimate favorite typical Venezuelan dishes! SO national! Hey Sprue we don't put syrup or any kind of sweet stuff on top of cachapas for their taste is kind of sweet with a hint of salt, but hey, taste is universal. The most typical toppings are "carne mechada" (kind of shreded beef stew); "pollo guisado" (chicken sofritto), "queso de mano" a very soft and very native Venezuelan white cheese, and my favorite is a "queso paisa" (white semi-soft Venezuelan cheese). As you see, toppings are mostly on the salty side for cachapas are a main dish on their own level. I sincerely hope everyone that gets to try this recipe enjoys the result!
In the bowl of a food processor fitted with the metal blade, puree the corn with milk, sugar, salt, pepper, egg and cornmeal. The batter should be the consistency of a thick pancake batter.
Heat a large nonstick saute pan over low heat. Add 1 tbsp butter.
When the butter has melted and is hot, add batter, forming 3 inch rounds. Cook for 2 minutes on each side.
Repeat process with remaining butter and batter.
The cachapas may be made 2 hours in advance and kept uncovered at room temperature. They may be reheated in a 350°F oven until heated through.