Jilllyray's Cinnamon Rolls
flower7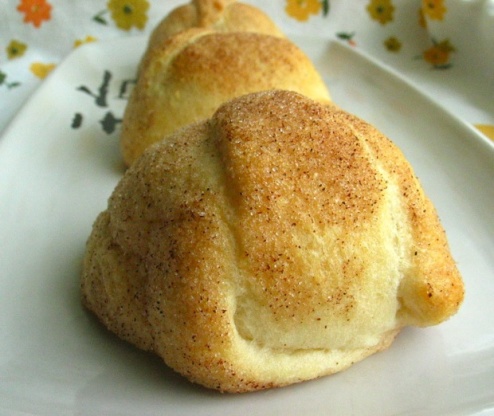 Cinnamon Rolls, made with refrigerated crescent rolls. From Paula Deen's "my first cookbook"

Mmmmmmmmmm! Mine all burst open and oozed marshmallow so I guess I didn't pinch them together very well. That said, these are awesome! I used quite a bit of cinnamon sugar, on the inside and outside. On the outside, I sprinkled it over the top, then rolled them around in it a little, so they were pretty thoroughly covered. I'm glad you suggested the parchment paper, otherwise the cookie sheet would have been a mess of oozing marshmallow! I really really enjoyed these and will definitely make them again. Thanks so much for sharing! :) [Made for New Kids on the Block game]
1

(8 count) can refrigerated crescent dinner rolls (8 rolls)

8

large marshmallows
cinnamon sugar (instructions below)
Turn on the oven to 375 degrees.
Seperate the dough into eight triangles. Place one marshmallow right in the middle of each triangle. Sprinkle each marshmallow with some of the cinnamon sugar.
Bring up all of the sides of the roll to completely cover the marshmallow, pinching all of the edges together so that none of the marshmallow shows.
Cover the cookie sheet with a piece of parchment paper. Place the rolls on the parchment paper, making sure none of them are touching. Sprinkle with more cinnamon sugar.
Bake the rolls for about ten minutes, until they are light brown and puffed up. Use ovenmitts or hot pads to remove the cookie sheet from the oven.
Serve warm.
NOTE: to make cinnamon sugar, combine 1/2 cup sugar with 1 teaspoon cinnamon.