Jilldo's Peanut Butter Truffle Cookies
dermitt3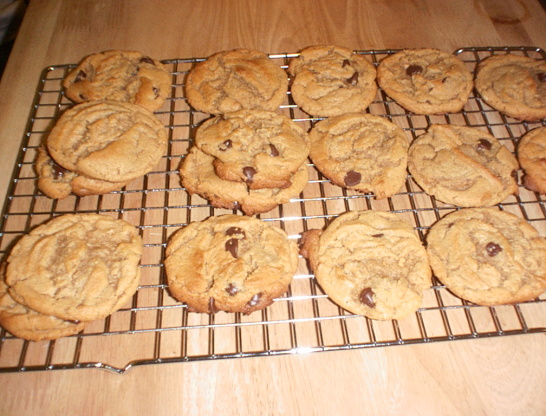 If you like peanut butter, give these a try. Great cookie recipe!

I chose this recipe because I needed to make cookies to take to a party and I didn't have any butter. I was surprised this recipe didn't call for flour, but they mixed up very quickly. I have other recipes I like better than this one, but when I took them to my party, the girls ate them all and 2 people asked for the recipe so I had to go with 5 stars!
Preheat oven to 350°.
In small bowl, with wooden spoon, combine all ingredients except chips until blended.
Stir in chocolate chips just until combined.
On ungreased cookie sheet, using slightly rounded teaspoonfuls, drop dough 2-inches apart. (Do Not Flatten).
Bake 9 minutes or until cookies are puffed and golden.
(Cookies will be very soft).
On wire rack, place baking sheets and let stand 5 minutes.
Remove cookies from sheets and cool completely before serving.