"jiffy" Deluxe Pizza Sticks
VickyJ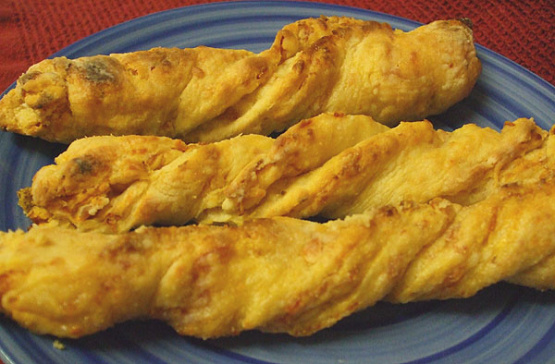 Recipe from a box of Jiffy brand Pizza crust mix, adapted slightly to our own taste. When we get tired of homemade pizza, we make these quick breadsticks. Great to dip, make extra 'cuz they go fast!

When I made this I did chop the pepperoni very small (almost mincing it!) & followed your recipe right on down! I actually made two batches, one as per the recipe & the other one doing the twisty thing as in Vicky J's review & photo! I'll certainly be keeping this recipe around as these would be a great addition to my finger food buffet when I'm hosting a couple of groups each month! [Made & reviewed in Zaar Cookbook Tag]
Preheat oven to 375 degrees, grease one baking sheet.
Mix pizza crust mix, garlic powder, pepperoni and mozzarella cheese.
Add hot water and mix well.
Spread Parmesan cheese onto greased baking sheet.
Drop dough onto parmesan cheese and knead dough into cheese to reduce stickiness.
Roll dough out on same pan, to 1/2 inch thickness.
Using a pizza slicer, cut dough into 1 inch strips , but don't separate.
Bake 15-18 minutes and remove from oven.
Mix topping ingredients and spread over hot breadsticks.