PaulaG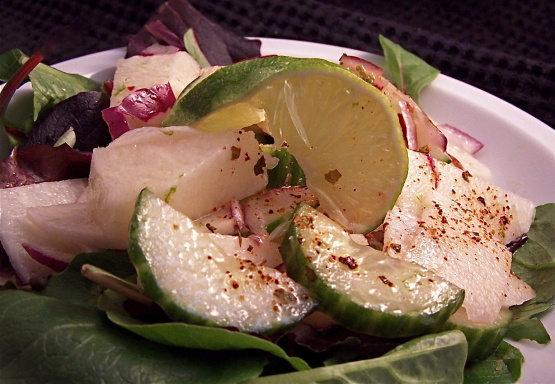 This salad is excellent with any meal. It is crisp and refreshing. I like it because you can prepare it well in advance of the meal.

We really liked this salad. Nice to have something different. I made this in the morning and it was still crisp and very delicious when the meal was ready that evening. The lime flavor was perfect on this, and the jicama and cucumber was a great combination. Thanks Bergy!!
Pare the Jicama; cut lengthwise into 8 wedges; cut wedges crosswise into 1/8" slices.
Cut cucumber lengthwise and scoop out the seeds.
Cut halves crosswise into 1/8"slices.
Combine Jicama, Cucumber And Onion in a large bowl.
Toss lightly.
Mix lime juice, lime rind,garlic, salt, and chili in a small bowl.
Gradually add oil continuously whisking until thoroughly blended.
Pour dressing over Jicama mixture, toss lightly to evenly coat the salad.
Refrigerate 1-2 hours , covered, to blend the flavors.
Just before serving line a shallow salad bowl with the lettuce leaves and spoon salad on top.