Brenda.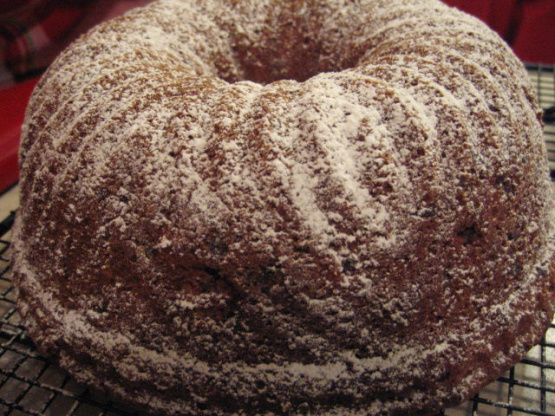 This is a wonderful, moist cake recipe that is baked in a bundt cake pan. A co-worker brought this to work, and when I got home, I looked the recipe up in "The Cake Mix Doctor Returns!" cookbook. This recipe is from the cookbook, with a few minor changes of my own.

This is wonderful! I used a Butter Yellow cake mix and while I really wanted to use the optional coconut, I was out. I added 6 oz of semi sweet chocolate chips instead. The 1 tbsp of cocoa really gave the cake a lovely medium caramel color and the hint of cinnamon was just right. IF there is any left tomorrow (Big IF as DH is already on 2nd piece and he took a huge piece to his brother), I plan on taking a piece to work. All I did to finish the cake was to dust with powdered sugar as suggested. It is moist enough on it's own to not need a glaze or frosting. Thanks for sharing. Made for PAC Spring 2011.
Preheat the oven to 350 degrees F.
Lightly mist a 12 cup bundt pan with vegetable oil, then dust with flour, shaking out the excess flour. Alternatively, you can just spray with Pam for baking (it has flour in the spray).
If you are using the nuts, spread the nuts evenly in the bottom of the pan. This will put them on the top of the finished cake.
Place the cake mix, pudding mix, granulated sugar, cocoa powder, cinnamon, sour cream, oil, eggs, and vanilla in a large mixing bowl and beat with an electric mixer on low speed until incorporated, about 30 seconds. Scrape down the sides of the bowl and beat for another 2 minutes at medium high speed. If using, fold in the coconut here.
Pour the batter into the prepared Bundt pan, smoothing the top with a rubber spatula, and place the pan in the oven.
Bake the cake until it is golden brown and the top springs back when lightly pressed with a finger, about 47 to 53 minutes. Transfer the Bundt pan to a wire rack and let cool for 10-15 minutes.
If you used the Pam for baking, the cake will automatically pull away from the pan. If not, then run a long sharp knife around the edges of the cake and shake the pan gently.
Invert the cake onto a wire rack. Let the cake cool completely, about 25-30 minutes.
If desired, sprinkle the cake with powdered sugar before serving.