jonesies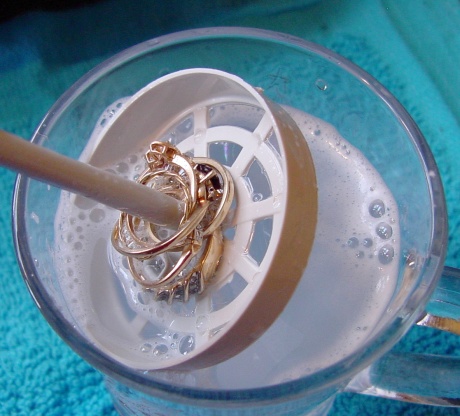 I couldn't believe how dirty my watch and silver jewelry were when I tried this. Yuck! This saves money and is safe for you and the environment. The solution can be very drying to your hands so consider using rubber gloves or even tweezers to handle the jewelry. This recipe is from wire-sculpture.com.

The combination of baking soda & boiling water is a universally accepted way to clean all sterling silver. However, you MUST lay the sterling on aluminum foil or else the jewelry piece or whatever you are cleaning will turn black! It is the aluminum which causes the silver oxidation to move from the silver to the foil. (And, if your silver turns black because you failed to use the aluminum, just re-do the process with the foil & the staining will reverse itself.) Hope this helps!
1

tablespoon salt

1

tablespoon baking soda

1

tablespoon dish detergent

1

cup water

1

piece aluminum foil
Heat water in the microwave for 1 or 2 minutes.
Cut a piece of aluminum foil that roughly covers the bottom of a small bowl (like a cereal bowl).
Pour hot water into bowl. Place salt, soda, and dishwashing liquid into bowl. Place jewelry on top of foil and let it sit for 5 to 10 minutes. Rinse jewelry in cool water and dry jewelry completely with soft cloth. Discard solution after use and make a new batch next time.
According to wire-sculpture.com, "this works well for gold-filled, brass, german (nickel) silver, and sterling silver. I have even cleaned jewelry with freshwater pearls, shell cameos and mother of pearl with no problem.".