Zaney1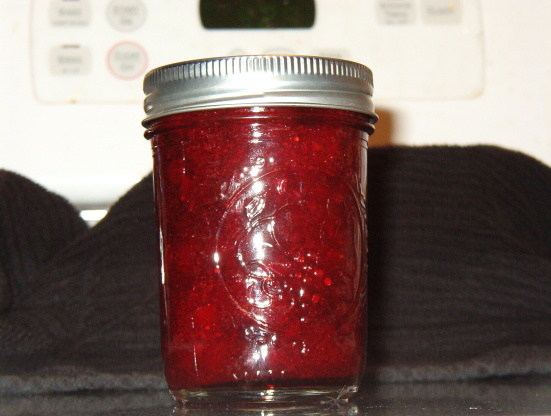 from darlene kosmman very old recipe has cherries and strawberries

Top Review by Zaney1
I fiddled with this recipe a little bit b/c I used fresh strawberries. I used 2 cups cherries and 1 1/2 cups strawberries. I used SureJell but in looking closer at the recipe it calls for a 3 oz package which is what Certo(liquid pectin) comes in. The technique is different for SureJell and Certo as well so be sure to use the right one. Since I used SureJell, I added the SureJel with the fruit and cooked it to a rolling boil and then added the sugar and boiled it for 1 minute. If you use Certo, you add the sugar with the fruit and boil it, then add the Certo and boil it again. I also Hot water bathed the jars as it is the safer preservation method. It is very tasty and beautifull colored jam. I had no trouble with the fruit floating to the top. It stayed distributed perfectly.
pit cherries
chop
cook til soft add strawberries and lemon juice and sugar
mix well.
bring to a full boil
boil hard 1 minute stirring constantly
remove from heat add sure jell stir
skim foam
this cools it slightly and keeps fruit from floating
this is what recipe says ypu may need to cook morre
ladle into glasses and pour melted paraffin over them makes about 7 glasses
i would put in 1/2 pint jars and waterbath these according to ball instructions.