Jessica's Meatloaf With Oatmeal
Boomette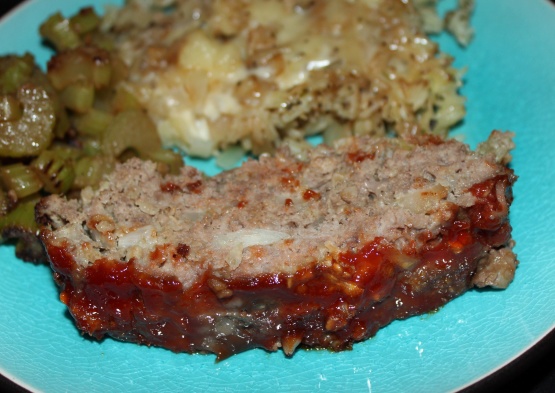 You can't tell this meatloaf uses oatmeal instead of bread crumbs, very yummy! Use either regular or quick oats.
l wanted to try a new meatloaf recipe and wanted it to be gluten free, so l was excited to try this one. l doubled the recipe, followed it to the letter and was left with two pans of tasteless meatloaf that had to be drowned in ketchup to be edible. l'll be sticking to my old recipes l guess. l have no idea what went wrong.
Preheat oven to 350 degrees.
Mix sauce ingredients, set aside until meatloaf is halfway cooked.
Beat eggs; stir in milk, oats, sage, salt, onion and optional celery. Mix into ground beef. NOTE: Traditional meatloaf has double the salt; we like this recipe as is, but you may season to your own tastes by increasing salt or adding pepper.
Place in 9" X 9" pan, leaving 1/2" empty border (makes it easy to remove any grease later).
Bake uncovered for 30 minutes at 350 degrees. Cover with sauce and bake an additional 30 minutes (still uncovered) at 350 degrees.
Immediately remove any grease standing in the border.