Jerusalem Artichoke Gratin
Barb G.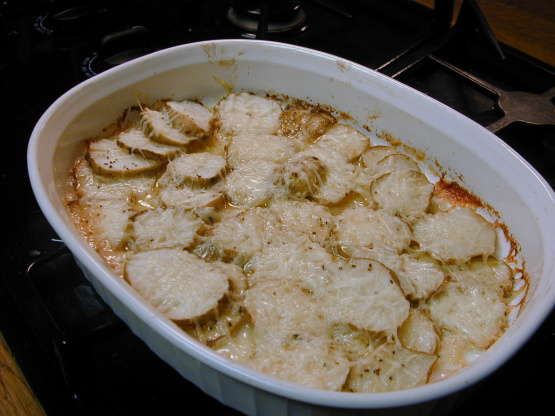 Jerusalem artichokes also known as Sunchokes, are awkward-looking tubers even bumpier than fresh ginger. The flavor is much like a regular artichoke, though they are not related they are sweeter and a little starchier. They taste a little smokey and retain a crispness when cooked, if not overcooked. They cook very quickly, so be careful not to turn them to mush. The recipe calls for peeling them, though I just scrub them as the tender brown skin is edible. They make a good appetizer, are good raw in salads. NOTE; Since I posted and made this recipe "Uncle Bill" Bill Anatooskin has also made the recipe. He made it for a group of about 20 people,He said they DEVOURED every morsel and looked for more. Many had never eaten Jerusalem Artichokes. He e-mailed me the changes that he made, I made some changes to when making the recipe. So I combined the changes. We hope that you enjoy the artichokes.

This is delicious and I will totally make it again. Husband LOVED it too. I'm just sad I don't have a bigger patch of these in my garden. This year I'll plant way more. Prepping the chokes from digging out to cleaning and peeling was a bit time consuming but worth it. Thank you for posting this.
Scrub the sunchokes and slice into 1/4 thick slices.
In a 13-inch-x-9-inch a baking dish, add melted butter.
Arrange the sliced chokes in casserole so that they overlap slightly.
Sprinkle with salt, black pepper and garlic powder.
If Using: Mix together onions & green onions; sprinkle over chokes.
Sprinkle with Parmeasn chesse.
Bake in a preheated 400 degree oven for about 18 to 20 minutes or until light golden crust begins to form on top.
Remove from from oven, cover with release foil and let set for about 5 minutes before serving.
The Jerusalem Artichokes should be slightly crunchy.