Jer's Grilled Loin of Pork
teresas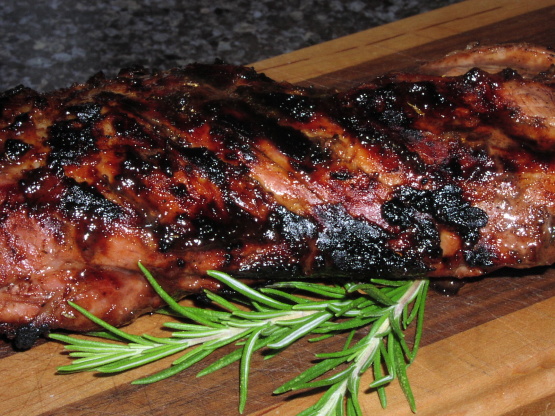 This is one of my husband's favourite meals. What can I say about the glaze...You'll see. I hope you like this as much as our family does. For extra flavour double the glaze and marinate overnight.

Adding 5 stars to this recipe as an edit. No stars were listed the first time:-(
2 1⁄2 lbs pork loin roast, boneless
1⁄2 teaspoon salt
1⁄4 teaspoon pepper
1⁄2 teaspoon dried thyme (or 3 large sprigs fresh thyme)

Glaze

1⁄4 cup apple juice (may substitute sweet cider)

2

tablespoons honey, liquid
1⁄4 cup tomatoe ketchup
1⁄2 teaspoon ground cloves
Rinse and dry pork.
Cut loin halfway through into serveral thick slices.
Sprinkle with salt and pepper.
Insert thyme into cut slices.
Combine glaze ingredients.
Grill roast or broil for 1 hour, turning over and basting often with glaze.
We like this with roasted or baked sweet potatoes, corn on the cob and thick slices of watermelon.