Jerry's Italian Lettuce Salad
Zurie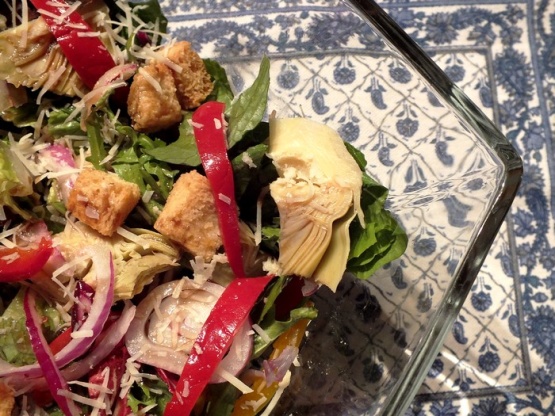 My father-in-law is famous for this salad. We all love it with pizza or pasta dishes.

Top Review by surus
This was a great salad. I made a couple substitutions based on personal preference and what I had on hand. I left out the pimento and put in diced marinated red pepper, a handful of sliced mushrooms and two Roma tomatoes cut into eighths. I also added a squeeze of anchovy paste to the dressing. I was a bit confused by the directions as it sounded as though I should add the dressing and then refrigerate for two hours. That's what I did and it was delicious. Loved the bread crumbs, which I had never done before. We had neighbors over for lasagna and both husbands had seconds of salad. I was about to toss out the leftover salad but my husband stopped me and asked to keep it for the next day. That was a first too! I will definitely make this again.
Tear romaine lettuce into bite sized pieces and put in large bowl.
Set aside.
Combine olive oil, vinegar, dijon mustard, and garlic.
Drizzle over salad and toss.
Add thin sliced onion, pimento, and quartered artichoke hearts.
Sprinkle parmesan and bread crumbs over salad evenly and toss all ingredients until evenly mixed.
Refrigerate up to 2 hours before using.