Jerk Sweet Potato and Black Beans
sheepdoc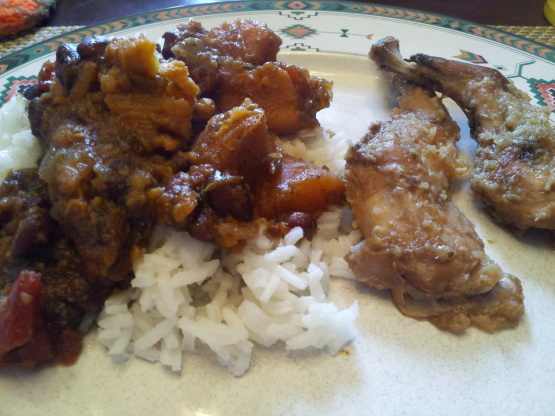 Similar to a vegie curry. Serve with rice. May be made up to 2 days ahead and refrigerated. Gently reheat before serving. Jerk Seasoning can be found in larger supermarket spice sections, or make your own. There are some recipes here on Food.com.
Heat oil in a dutch oven or flame-proof casserole. Add diced onion and cook until softened.
Meanwhile, place the roughly chopped onion, ginger, cilantro stalks and jerk seasoning in a food proccesor and process until finely chopped. Add this mixture to the softened onion and fry until fragrant.
Stir in the thyme, tomatoes, vinegar, sugar and broth and bring to a simmer. Simmer for 10 minutes, then drop in the sweet potatoes and simmer for 10 minutes more.
Stir in the beans, peppers, salt and pepper, and simmer for another 5 minutes, until the potatoes are almost tender.
Roughly chop the coriander leaves and stir them into the pot.
Serve.