lazyme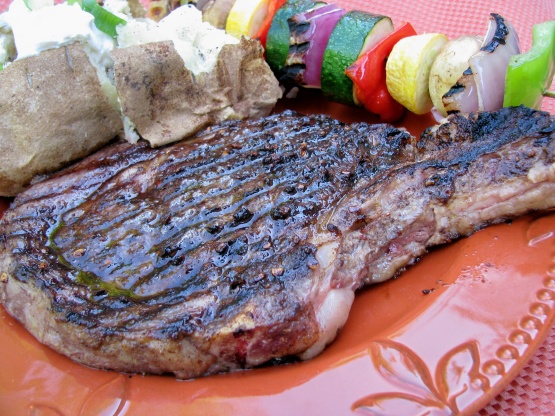 This recipe is not overly spicey, and I've set the ingredients to serve 2. It is wonderful served with my Honey Glazed Plantains and Sauteed Collard Greens. A wonderful Caribbean recipe! Prep time does not include 1 hour marinating time or grill prep time. This recipe originally came from Aaron McCargo.

I use 1/4 cup light brown sugar and omitted the red pepper flakes a nice treat. I serve the Recipe#373114 on the side. This was fantastic and So easy to do! I will definitely make this again.! You can take that as all thumbs up. This is now on the regular rotation. Thank You PRMR 2013....Grpa
Combine all ingredients except steak in a small bowl.
Rub seasoning mix on steak. Place steak in a plastic bag to marinate for 1 hour in the refrigerator.
Meanwhile, prepare your grill for cooking at medium high to high heat.
After marinating your steak for 1 hour, remove from the refrigerator and let sit for 15 to 30 minutes. This step is very important. It allows your steak to absorb the flavors and tastes great!
Grill steak for 12 minutes (6 minutes on each side). Remove and let rest for 8 minutes, covered to keep warm.