Rita1652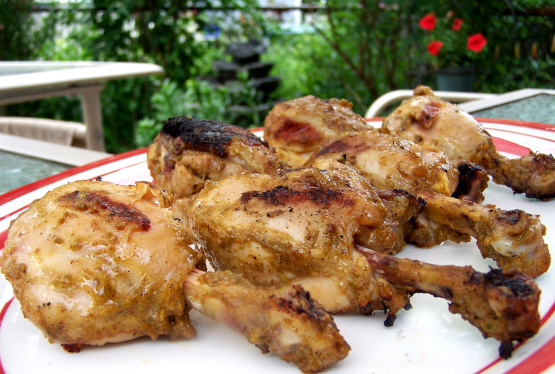 I posted this recipe for ZWT3. Looks yummy, I can't wait to try it. Times do not include time to marinate overnight.

Loved the kick and the tenderness of these. I added nutmeg and a pinch of cinnamon using 3 cloves garlic, smoked paprika and chipotle chile pepper for the cayenne pepper. The directions are not very clear! I mixed the jerk sauce including the yogurt then added the sauce with the skinless chicken drumsticks in a freezer ziplock bag. Marinated overnight. I then cooked on a hot oiled grill for 35 minutes. Started on direct heat to mark then indirect heat to cook through.
Jerk Sauce:In blender, combine all ingredients and process until smooth. Refrigerate leftover sauce.
Marinate chicken in a mixture of jerk marinade and yogurt, best if left refrigerated overnight.
Spray with oil spray.
Can be grilled over medium hot coals about 35 minutes or until done. Turning occasionally to prevent burning.
These can also be baked but don't have that same smokey flavor as when they are cooked on a grill.
Serve as a snack or appetizer.