Pixie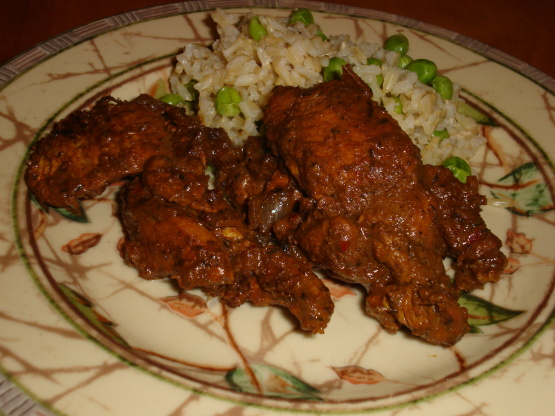 This recipe came to me by way of the February 2005 Zaar recipe adoption. Don't let the amount of vinegar concern you. The finished product does not have a sour taste at all, and I was quite pleased with the recipe. The only changes I made were to reduce the amount of salt and increase the amount of chicken, as the marinade makes a substantial amount. If you choose to halve the recipe, I would recommend using the full amount of the marinade ingredients to keep the flavor in balance. Note: edited 3/19/07 to add freezing instructions for OMAC.

I've never made Jerk Chicken before, so decided to try this and all I can say is WOW! My DH and a friend of ours loved it! I only used 1/2 cup of the cider vinegar as that is all I had but I followed the recipe exactly other than I marinated it for 7 hours instead of overnigh. Thanks I'll be making this again!
In large food storage bag combine allspice, thyme, cayenne pepper, black pepper, sage, nutmeg, cinnamon, salt, garlic powder, sugar,soy sauce, vinegar, orange juice, and olive oil.
Add onion and green onion.
Combine well.
Add chicken and allow to marinate refrigerated overnight, turning occasionally.
Remove chicken from marinade and bring to room temperature.
If you wish to baste your chicken while grilling, bring the marinade to a hard boil in a medium saucepan to avoid any contamination.
Grill chicken over hot coals or gas grill 6-10 minutes per side until juices run clear, basting occasionally.
I have been told this recipe works well for those of you who do OMAC as follows:
To freeze, mix marinade in large freezer bag, add chicken, then seal,lable and freeze.
To serve, thaw in fridge overnight and then grill as directed.