Prep 30 mins
Cook 30 mins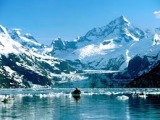 If you like hot-n-spicy, this is the recipe for you. It uses Scotch bonnet chilies, which are very hot. If you'd like to lower the heat, you can use jalapeno peppers instead of Scotch bonnet. The longer you marinate, the more flavorful and spicy the chicken. This recipes serves a lot. Feel free to adjust amounts to suit the number you are serving. Time does not include marinating. From Food & Wine. *The jerk marinade can be made and refrigerated overnight.* A mango or pineapple salsa would be lovely atop this chicken. The Caribbean is only a grill away....
Directions
In a food processor, combine all of the ingredients up through the oil; process to a paste.
Put the chicken in a bowl, pour the marinade over and coat the chicken.
Cover and refrigerate overnight.
Light a grill.
Remove chicken pieces from the marinade, leaving on a coating of spice paste.
Season the chicken pieces with salt and pepper.
Grill the chicken oever moderately high heat, turning often, until the skin is nicely charred and the chicken is cooked through, about 30 minutes.
Transfer to a platter and serve.
Most Helpful
FALL PAC 2009: I used jalapenos but other than that - no changes! EXCELLENT

We love Jerk seasonings and this is a great one. We feel a little guilty for making it milder (one jalapeno instead of three Scotch Bonnets) but one of us can't take the heat and we love this blend otherwise. We used chicken breasts and pork loin cut in strips, and found we liked the pork even better than the chicken. A backyard gas grill treat enjoyed Saturday over arborio rice, and Sunday with Recipe#232645 and Recipe#373442 at the patio table. Made for Zaar World Tour 5.

Oh, WOW-WEE. This was a truly fantastic dish. I enjoyed the wonderful blend of the various seasonings used in the marinade, and the chicken came out so moist and tender. It was a real treat. I will make this often during grilling season. Made for ZWT5.