Bayhill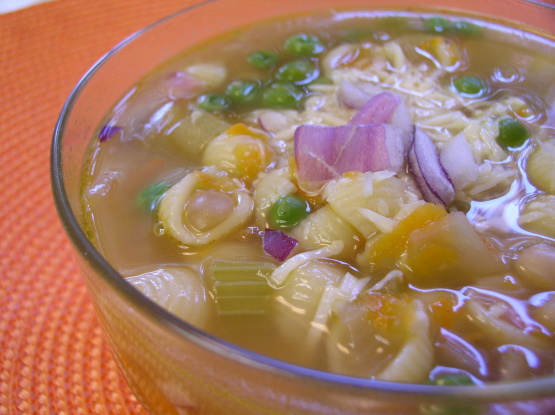 My sister made this soup for us years ago, and I've made it many times since. I don't remember where she got the recipe, but we've always called it Jen's Soup. It's light, easy, and a little different!
Yummy! This soup is perfect for those times when you don't want anything too heavy to eat. It is quick, easy, and light, yet it would be easy to add more/different vegetables and some fresh herbs to make it more substantial. My family really enjoyed this. Thank you for sharing. I made this for PAC spring 2007.
In a 6-8 quart pot, saute onion, garlic and celery in oil 5-8 minutes.
Add broth and bring to a boil.
Stir in pasta and beans, cover and simmer until pasta is al dente, 5-7 minutes.
Add carrots and peas, bring to a boil.
Reduce to simmer and let cook just until peas are warmed through.
Serve with extra red onion and parmesan to sprinkle on top (optional).