Jen's Ham & Cheese Toasted Sandwiches
ImPat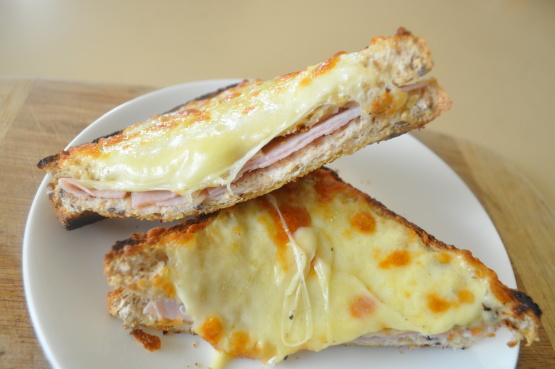 A little different from other sandwiches as you top them with the cheese and place under a grill instead of using as part of the filling. This is a great crowd pleaser for brunch especially after Christmas when you may want to use up some of that ham. Easily put together when time permits, even the night before if kept in the fridge. Served with some fresh juice to start while they are cooking and finished off with a cinnamon teacake & hot freshly brewed coffee you have a great brunch menu for family & friends. You can also add in other ingredients to the filling if wished, such as avocado, tomatoes, onions etc. I often make this for a quick lunch to eat either on its own or with a soup in winter. For the two of us I just use 4 slices bread and "eyeball" the rest of the ingredients :)
Mix the softened butter with the mustard and spread on the bread slices.
Cover half of them with the ham and then place the remaining slices on top, butter side up.
Place a sheet of baking paper on a tray and place on sandwiches. This can now be covered with plastic wrap & placed in the fridge until about 15 minutes before cooking to allow the sandwiches to come back to room temperature.
Toast the sandwiches under a hot grill butter side up until golden brown.
Turn them over and cover generously with grated cheese making sure you cover right to the edges so the crusts don't burn.
Return to under the hot grill and cook until the cheese is bubbling and golden brown.
Transfer to a board and cut into halves or quarters and serve immediately. Enjoy :).