Jen's Chocolate Chip Biscuit/Cookie Log
Jen T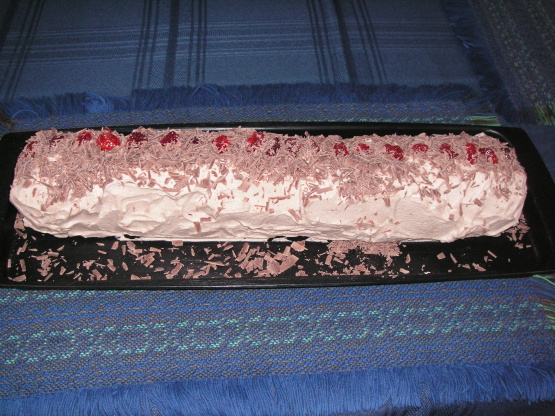 This is one of my 'stand by' desserts. Here in New Zealand I make it using 'Hudsons' Chocolate Chip Biscuits. In place of the sherry to dunk biscuits in you can use milk, fruit juice, or add some of your favourite liqueur to the milk. The choice is yours. Note: Cook time is softening time.
Have ready an oblong dish which will be your serving dish.
Place sherry or liquid of choice in a shallow bowl.
Beat the cream with the golden syrup and cocoa until firm and holds it shape.
Dip quickly a biscuit into the liquid of choice (dont soak) and spread one side with the cream.
Do a second biscuit and sandwich together.
Stand these on the serving dish on their edge.
Continue until all bisciuts are used and you have a 'log'.
Spread remaining cream over the log to enclose the biscuits.
Decorate as desired. I like to put a row of glace red cherries along the top then sprinkle with chocolate chips or shaved chocolate.
Place in fridge for at least 2 hours if possible although can be eaten soon after making, it just wont be as soft.
Note:.
This can also be made using plain sweetened whipped cream.