Maggie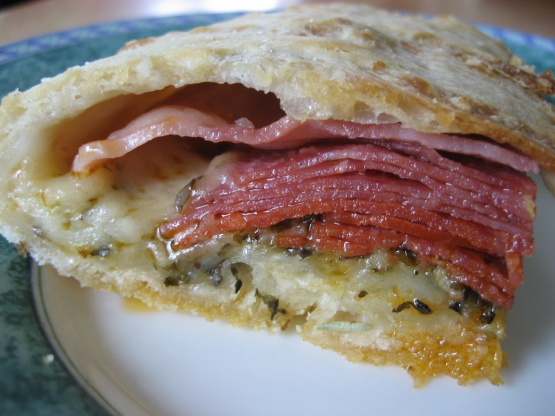 I loooove a great hot sub, and this is allll that and better with a bag of chips!!! and a nice dill pickle!

I've been making stromboli by a recipe just like this for years, except mine didn't have the garlic butter. I came in search of a way to add more flavor to my stromboli & I think that's exactly what I was looking for!
Place dough on lightly greased baking sheet.
Pat to a 15x10 inch rectangle.
Arrange ham slices lengthwise down the center, follow with salami.
Sprinkle with half of seasonings.
Top with cheeses.
Sprinkle rest of seasonings.
Moisten all edges of dough with water.
Bring long ends together at center and press securely to seal.
Seal ends.
Brush dough with butter and sprinkle with cornmeal.
Carefully invert, seal side down, on baking sheet.
Brush top with rest of butter.
Bake at 375° for 20-22 minutes.