Diana 2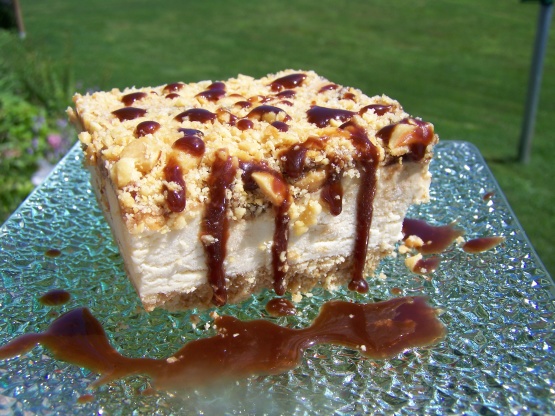 My neighbour Jenn delivered this wonderful dessert to our door last week. Tastes just like the drumstick cones you get at the store. Super easy to make, and wonderful to have on hand when unexpected company arrives...or a spur of the moment treat. :) I made mine in a 9x13 plastic container with a fitted lid. This version is slightly different than those already posted here on Zaar.
Mix together all the ingredients for the bottom layer. (a food processor does the job beautifully) Reserve 1/4 cup for garnish. Press remaining mix into a 9 x 13 container.
In a large bowl, mix together cream cheese, sugar and peanut butter until smooth. Add eggs, one at a time. Add vanilla. Fold in Cool Whip. Spread this over the wafer base.
Drizzle syrup over top, and sprinkle with reserved crumbs and extra crushed peanuts if using. Freeze for 2 - 3 hours.
Cut into 15 serving pieces and return to the freezer -- (supposedly for safe keeping). Freeze overnight.
Remove servings as needed, 1/2 hour before serving. Keep unused portions in the freezer.