Jennie's Green Bean Casserole
diner524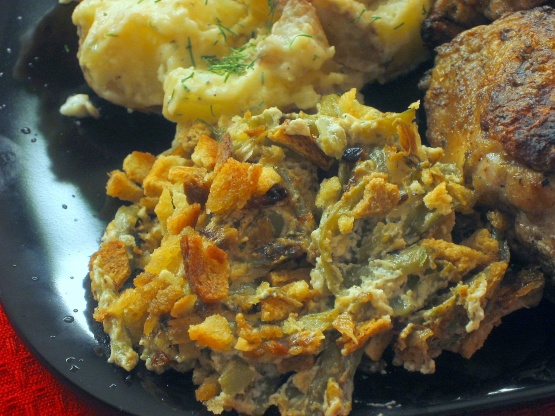 This is my absolute favorite version of green bean casserole. I've brought this to many potlucks and I am always asked for the recipe. My mushroom-phobic DH even loves this dish!
Wonderful change from the normal green bean casserole. I liked the addition of the cheese, as well as the sauted onions and fresh mushrooms. I cheated as it was just me eating this today, so I just cooked it all in fry pan that I could then put in the oven. Thanks for another great recipe Mama Jennie.
Preheat oven to 350°F Cut green beans to to desired serving size.
Boil green beans until cooked to desired softness.
In a skillet, melt butter & add onions, cook until tender.
Add mushrooms & cook for 5 minutes, then add ham & cook until just browned.
Add soup, milk, cayenne pepper, & green beans to the skillet & mix all together to coat well.
Grease a 13" x 9" casserole dish & add mixture. Sprinkle cheddar cheese on top.
Bake uncovered for 20 minutes. Remove from oven & add crispy onion topping, then bake for an additional 5 minutes or until onions are golden.