hlkljgk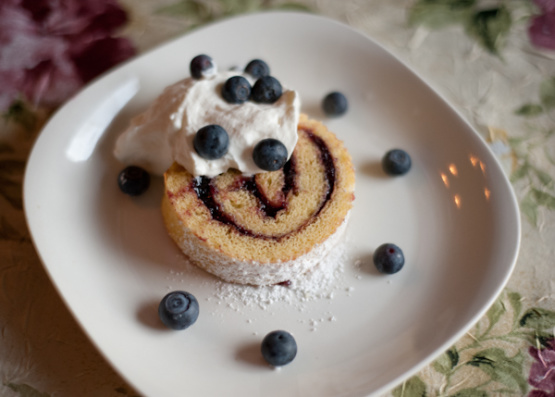 A light dessert and soooo easy! * I have also tried sifting confectionery sugar on a dry tea towel( not terry cloth) and turning the cake out on that. (Remove waxed paper carefully. Then try to roll the cake (on the long side) with the cloth as a buffer between each turn/layer. Let it rest for a minute or two then unroll and and let rest for a bit before you spread with jelly/jam . Re-roll. This seems to help keep the roll from tearing so easily.

I just finished making this, it couldn't be easier! After the cake came out of the oven, I rolled it with the towel and let it cool. Once it cooled I unrolled it and spread strawberry jelly and pecan-cream cheese icing (I spread them in strips along the cake), then re-rolled it. I am taking this to a dinner I at someone else's home tonight. Thanks!
Preheat oven to 375°F.
Spray a 11 x15 baking/jellyroll pan with a light spritz of Pam.
Fit with waxed paper and spray with cooking Pam again.
Whip eggs, sugar, vanilla and water until light.
Mix in dry ingredients.
Pour thin batter unto sheet.
Bake until sponge is golden and springs to the touch.
Turn out on cloth wrung in cold water.
Remove waxed paper.
Spread with jam/jelly.
Using the cloth as an aid, roll up the cake into a roll and trim the ends.
Place on platter.
Sprinkle with confectioner sugar.
Serve warm or cold. Enjoy! =).